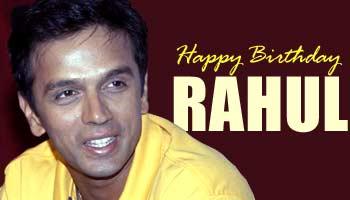 Rahul Dravid turns 33 on January 11.
The Indian captain is one of the most disciplined, hardworking and talented cricketers the country has produced.
Every time opposing bowlers have found chinks in his armour, he has come back even stronger. Every time the Indian team needed him to, he has reinvented himself. From Test-only batsman to one-day finisher to one day wicket-keeper to one of India's most successful batsmen overseas, 'Jammy' -- as Dravid is fondly called by his team-mates -- has truly been Mr Dependable.
Every time he puts on the India cap, he sets new standards for himself. Every time he pads up, he raises the bar in true character.
This amazing cricketer deserves the very best wishes you can gift him on his birthday.
So go on, wish Rahul Dravid the kind of birthday dreams are made of.
Simply type in RAHUL followed by your birthday greeting and SMS it to 7333!