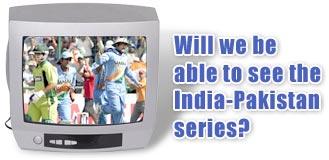 In the world of cricket, there's nothing bigger than the India-Pakistan series. But, even though it is about to begin, there are doubts whether you -- in India -- will be able to see it on television.
Why? Because the International Cricket Council and the Pakistan Cricket Board are reluctant to share the feed with Prasar Bharti for the matches (to be showed on Doordarshan), as this will hurt the revenue of Ten Sports (the channel that holds official rights to telecast all matches played in Pakistan). If Ten Sports incurs losses, it may not be able to keep up its contractual obligations with the PCB, thus causing a loss to PCB and ICC too.
Indian rules say that the channel holding the telecast rights will compulsorily have to share the cricket feed with Prasar Bharti. But Ten Sports has now moved the Indian Supreme Court for a stay on the Indian guidelines on sharing the feed with Prasar Bharti.
The last time around too, the same scenario had emerged and the telecast was cleared at the last moment, which led to a massive loss for Ten Sports.
Do you think private channels must share telecast with Dorodarshan? Do you think we need clearer laws to avoid a repetition of the same problem every year?
Do you think we will be able to see the India-Pakistan games? Tell us