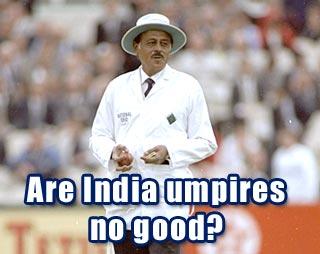 The International Cricket Council on Friday announced the expansion of the Emirates Elite Panel of ICC Umpires from seven to 10 members following the annual review of umpire performance at the end of March 2006.
 
All the existing members were retained, with Mark Benson, Billy Doctrove and Asad Rauf joining the top tier of international cricket officialdom. Surprisingly, no Indian umpire figures on the list. The last Indian on the panel was former Test captain and spinner S Venkataraghavan, who retired in 2003.
 
The composition of the panel was determined by ICC Chief Executive Malcolm Speed and the chairman of the ICC Cricket Committee, Sunil Gavaskar.
In making their decisions, the ICC said, Speed and Gavaskar took into consideration the correct decision percentages of umpires and reports from captains and match referees.
Which begs the question: Are India umpires no good?