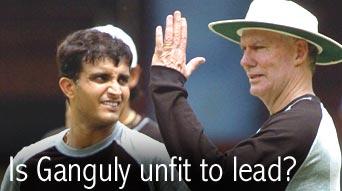 A day after registering a series victory for India away from the subcontinent in 19 years, captain Sourav Ganguly is again under fire for his attitude from coach Greg Chappell.
Chappell, in a six-page e-mail to the BCCI, termed Ganguly 'physically and mentally unfit' to lead the Indian team. He added, if India is aiming for the 2007 World Cup then Ganguly's attitude and outlook are not ideal.
The former Australian captain said Ganguly does not follow the prescribed fitness regimen and indulges in a divide and rule policy just to retain his captaincy.
Also Read: Sourav is an embarrassment
An angry Ganguly, who is India's most successful Test captain with 21 victories in 49 matches since he took over the job in 2000, retaliated by saying, 'You can imagine the character of a person who within hours of a truce goes and writes such an e-mail.'
Do you agree with Chappell's view that the Indian captain is an ideal captain? Or do you think Ganguly should be given another chance to prove his credentials both as a captain and batsman?