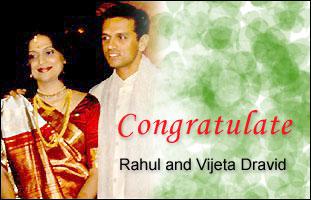 India's batting ace Rahul Dravid had another reason to smile on Tuesday when his wife Dr Vijeta gave birth to their first child in Nagpur.
Vijeta, who hails from the city, and the baby boy are doing well.
Rahul could not be with Vijeta at the time. He is in Australia to take part in the ICC Super Series. A photograph of mother and son, we hear, has been e-mailed to him.
Rahul married Dr Vijeta Pendharkar in May 2003 at the Yelahanka temple in the Border Security Force's Subsidiary Training Centre on the outskirts of Bangalore.
Congratulate the proud parents on this occasion!