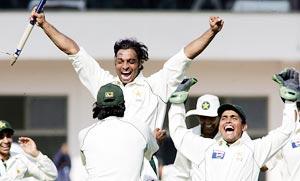 Leg spinner Danish Kaneria took four wickets and fast bowler Shoaib Akhtar [ Images ] three to spur Pakistan to a 22-run win over England [ Images ] on a thrilling final day of the first Test on Wednesday.
England, chasing 198 for victory, started the day on 24 for one and were bowled out for 175 half an hour after lunch.
Kaneria turned the tide for Pakistan after the overnight pair of Andrew Strauss [ Images ] (23) and Ian Bell [ Images ] (31) had put on 57 for the second wicket and looked like piloting England to victory.
England lost six wickets for 53 runs before lunch, three of them to Kaneria.
Akhtar, who took six wickets in the match, then broke an obdurate eight-wicket stand of 49 between Geraint Jones and Shaun Udal [ Images ] which had brought England to within 32 runs of a win.
Kaneria finished with 4-64 for the innings and Akhtar 3-49. Paceman Mohammad Sami [ Images ] took the important wickets of Paul Collingwood [ Images ] and Kevin Pietersen [ Images ].
"It was a very important victory for us," said Multan-born captain Inzamam-ul-Haq [ Images ]. "It was difficult to defend a lead of 197 in the last innings but we decided in the team meeting that we would fight hard."
It was only the fourth defeat for England in 29 tests since October 2003 and followed their Ashes series defeat of world champions Australia [ Images ].
"It was a close game between two good teams. Still two games to go and we will do things right and try to come back stronger," said England's stand-in captain Marcus Trescothick [ Images ].
It was Pakistan's first successful defence of a total under 200 since 1993 when they bowled out New Zealand [ Images ] for 93 at Hamilton defending 125 runs.
The next two Tests are in Faisalabad and Lahore [ Images ].
Kaneria turned the tide for Pakistan when he dismissed overnight pair Strauss and Bell in one over. He took three wickets for 14 runs in 20 balls as England lost six wickets before lunch.
In his third over Kaneria had Bell caught behind by Kamran Akmal and four balls later Strauss caught at slip.
In the next over Sami trapped Paul Collingwood (3) with an indipper to leave England on 67 for four.
KILLER BLOW
Kaneria struck a killer blow five overs later when he had Andrew Flintoff [ Images ] caught at deep square leg by Younis Khan [ Images ].
Kevin Pietersen hit Kaneria for a six and a four and looked comfortable for the first time on tour, but he was out to a poor shot flashing at a wide ball from Sami to be caught behind for 19.
The eighth-wicket pair of Geraint Jones (33) and Shaun Udal (18), playing in his first test, revived the innings from a desperate 117 for seven with a fighting stand of 49 before they were split apart by Akhtar.
Akhtar bowled Jones off an inside edge in his first over after lunch and the England innings lasted for just 10 more balls.
Kaneria bowled Udal round the wicket and in the next over Akhtar had Steve Harmison [ Images ] caught at slip by Younis Khan after he raised the temperature with two fours.
Scorecard
Pakistan 1st innings  274
England 1st innings  418
Pakistan 2nd innings  341
England 2nd innings (Overnight: 24-1; Target: 198 runs)                    
M. Trescothick b Ahmed 5
A. Strauss c Raza b Kaneria 23
I. Bell c Akmal b Kaneria 31
P. Collingwood lbw b Sami 3
K. Pietersen c Akmal b Sami 19
A. Flintoff c Y. Khan b Kaneria 11
G. Jones b Akhtar 33
A. Giles b Akhtar 14
S. Udal b Kaneria 18
M. Hoggard not out  0
S. Harmison c Younis b Akhtar 9
Extras (b 6, lb 1, nb 2) 9
Total (all out, 52.4 overs, 236 mins) 175
Fall of wickets: 1-7, 2-64, 3-67, 4-67, 5-93, 6-101, 7-117, 8-166, 9-166
Bowling: S. Akhtar 12.4 - 1 - 49 - 3, S. Ahmed  10 - 0 - 25 - 1, D. Kaneria 20 - 0 -62 - 4, M. Sami 9 - 1 - 32 - 2, S. Malik 1 - 0 - 1 - 0