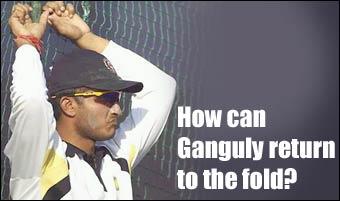 For three days in Mumbai this weekend Sourav Ganguly looked forlorn.
The famed Sourav swagger appeared to have vanished as he led East Zone against the Zimbabwe President's XI at the Brabourne Stadium.
On Sunday, while the Indian team was looking to extend its winning streak over Sri Lanka in Ahmedabad, Ganguly was figuring out ways to return to Team India with empty stands in Mumbai as witness.
Only a month ago, the 33-year-old left-hander was the spearhead of the national team.
The man who taught Team India how to be aggressive, how to never give up, how to win.
Abandoned by the Indian selectors -- as he told a Mumbai newspaper so eloquently last week, 'This can happen only in India' -- Ganguly returned to domestic cricket with a fighting century against North Zone. But will that be enough?
Can the Bengal tiger roar back into the Indian team?
What does Sourav Ganguly need to do to make a comeback?