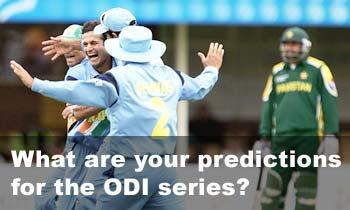 The Test series is now over. It is time for the so-called 'masala' matches to begin.
One-day cricket in the sub-continent is all about batting strength. The pitches are tailored to suit the needs of the batsmen and the bowlers consign themselves to giving away lots of runs.
India and Pakistan are much more evenly matched in the shorter version of the game and if the one-dayers in Pakistan last year are anything to go by then we are in for a thrilling time.
So how do you see the six matches turning out? What are the ploys you think both teams can and should use to come out tops?