India's oldest living Test cricketer Syed Mushtaq Ali, whose fearless and unconventional approach to batting earned him a place in the country's cricket folklore, passed away in his sleep on Saturday, marking an end of an era.
Born in Indore on December 17, 1914 in a middle class family, Mushtaq, a former captain who has the distinction of being the first Indian to score a century away from home, was one of the most colourful personalities in Indian cricket.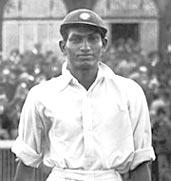 Such was his popularity that a crowd once heckled Duleepsinhji, the chairman of the selection committee with the refrain 'No Mushtaq, No Test' and forced his recall for an unofficial 'Test' at Calcutta against an Australian Services side.
Though Mushtaq began his career as a slow left-arm bowler he ultimately proved his mettle as a great batsman.
Mushtaq played eleven Tests and scored 612 runs at an average of 32.21 including two centuries and three half centuries. He also took three wickets and seven catches in his short career, which began against England in Calcutta in 1933-34.
He was known as the original dasher and his opening partner, Vijay Merchant, used to often shake his head in disbelief as he repeatedly stepped out to thrash the pacers.
| | |
| --- | --- |
| | Also Read |
| | |
Mushtaq was a right-handed opening batsman of brilliance and flair and an easy grace. Very quick on his feet, he always introduced a spirit of adventure into his play.
His moment of glory came in 1936 when India toured England. In the second Test at Old Trafford, he cracked a fine 112 in just two-and-a-half hours and was involved in a lively 203-run opening stand with Vijay Merchant.
The effort earned him the distinction of being the first Indian to score a century away from home.
In the unofficial Test series against Lord Tennyson's team in 1937-38, he scored 101 and 55 at Calcutta. Back in England in 1946, Mushtaq could not repeat the same success as he was guilty of throwing away his wicket much too often.
But he soon proved that he could bat with responsibility when he came back as an opener in the third Test in Kolkata against the West Indies in 1948-49 and scored 54 and 106 batting out of character to help India save the match.
That turned out to be his last success. He was never in the good books of selectors who brought him back as an after thought in the 1951-52 series against England.
Mushtaq failed in that match and was promptly omitted from the 1952 tour of England which effectively brought the curtains down on a career which spanned almost two decades but comprised only 11 Tests.
Mushtaq was awarded Padma Shri in 1964, while the Marylebone Cricket Club (MCC) honoured him with life membership. He also won a special award from Wisden.
In first class cricket, Mushtaq scored 13,213 runs including 30 centuries and also captured 162 wickets between 1930 to 1964.
In Ranji Trophy, he represented Central India, Gujarat, Madhya Pradesh and Uttar Pradesh and scored 5013 runs, including 17 centuries.
One of his best knocks was the 233 he scored against Uttar Pradesh at his home ground in Indore.
He also penned a book on the game and came out with 'Cricket Delightful' in 1967.
Photograph: Keystone/Hulton Archive/Getty Images