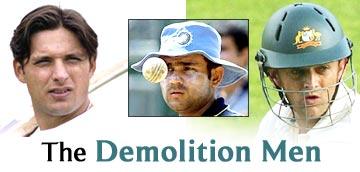 After being discovered as the fastest scorer in the history of Test cricket last year, Adam Gilchrist has earned a rare accolade in one-day cricket. Twenty leading contemporary bowlers rated him as the most destructive and intimidating one-day batsman.
In a poll, carried out by The Wisden Cricketer magazine, the bowlers, including Harbhajan Singh, Brett Lee, Muttiah Muralitharan, put the Australian on top of their nightmare list, even though Gilchrist's strike rate of 94.98 is not the best in ODIs. In fact, it is 12th best.
Two batsmen in the most feared list, Shahid Afridi (108.04) and Virender Sehwag (95.41), score faster than him. But Gilchrist has a batting average of 35.55 in 209 matches to complement it, which is higher than any of the batsmen with strike rates better than him.
'Gilchrist -- I don't want to bowl to him, man,' was Pakistan seamer Azhar Mahmood's response.
Sehwag, with an average of 32.83, comes closest to the Australian.
Brian Lara (2nd) and Sachin Tendulkar (6th) also score on their strike rates alone. It is the overpowering presence that these two, long debated as the best batsmen of their generation, bring to the game that make them a bowler's nightmare.
The Wisden list:
1. Adam Gilchrist (209 m, SR-- 94.98, Avg-- 35.5)
2. Brian Lara (256m, SR-- 36.92, Avg-- 73.99)
3. Shahid Afridi (208 m, SR-- 108.04, Avg-- 24.52)
4. Virender Sehwag (113m, SR-- 95.41, Avg-- 32.83)
5. Andrew Flintoff (81m, SR--92.95, Avg-- 35.18)
6. Sachin Tendulkar (348m, SR-- 86.15, Avg-- 44.43)
7. Chris Cairns (204m, SR-- 83.69, Avg-- 29.42)
8. Matthew Hayden (110m, SR-- 76.08, Avg-- 40.82)
9. Abdul Razzaq (193m, SR-- 80.24, Avg-- 30.25)
10. Ricky Ponting (222m, SR-- 78.04, Avg-- 42.25)
The numbers clearly show it is not just how hard you can hit, but how hard you can hit consistently.
The bowlers have given their verdict. Now it's your turn.
Who do you think are the world's most destructive batsmen? Write to us