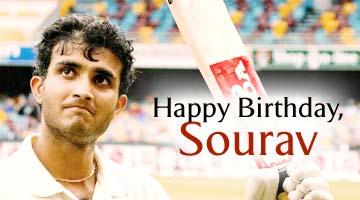 While Sourav Ganguly is away in London playing county cricket for Glamorgan, his family had low-key celebrations on his 33rd birthday.
"All of us myself, his mother Nirupa, wife Dona and little daughter Sana and I, spoke to him this morning. He sounded cheerful," his father Chandi Ganguly said on Friday.
He said though a special puja of the family deity Maa Mangalchandi was not undertaken because the cricketer was not at home, "only a daily puja" was held.
A photo exhibition on the different moods of Ganguly was inaugurated in Kolkata.
A private organisation in Behala, where Ganguly resides, organised a function in the evening to celebrate the birthday. A tableau doing the rounds of the metropolis for the last one month collecting good wishes for Ganguly, who has been going through a prolonged bad patch with the bat, also concluded its journey during the day.
You too can join in and wish the India captain all the best for the coming year.