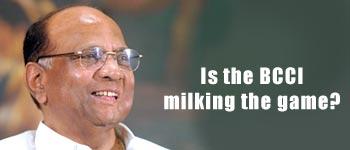 From an administration dragging its feet over every issue to an over-enthusiastic one, the Board of Control for Cricket in India seems to have undergone a massive change.
Since the Sharad Pawar-led team came into power, the marketing committee has been working in overdrive.
They have decided to sell every place on the cricket field, every possible broadcast and media space, and even the cricketers' gear.
Furthermore, they have divided the tender for sponsors into two categories -- Team Sponsor for all matches to be played on home and away, and another sponsor for all ICC tournaments, like the Champions Trophy and World Cup.
Is the BCCI taking cricket marketing to another level or is it simply milking the game?