Australia beat New Zealand by two runs in a thrilling one-day match in Wellington on Wednesday to win the Chappell-Hadlee Trophy.
Australia looked to have the match in hand after Andrew Symonds (156) and Michael Clarke (82 not out) helped the world champions post a daunting 322 for five from 50 overs.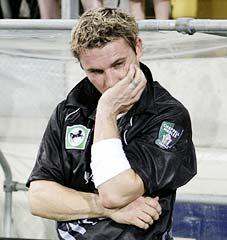 But the Kiwis, thrashed by 147 runs in the series opener four days ago, almost stole victory with a brilliant display of big-hitting as they were dismissed for 320 off the penultimate ball.
"What an amazing game of cricket," Australian captain Ricky Ponting said.
"We thought we had it in the bag a few times but New Zealand kept coming and coming."
New Zealand needed six runs from the last over with two wickets in hand after Lou Vincent (71), Chris Cairns (60) and Brendon McCullum (48) piled on the runs, but two run outs gave the Australians victory.
Clarke dismissed McCullum with a direct hit from point then Mick Lewis, a medium-pace bowler making his one-day international debut, ran out Kyle Mills for a duck.
"In the end we lost but I'm proud of the way out guys fought back, we never gave up," New Zealand captain Daniel Vettori said.
Symonds and Clarke came together in the 22nd over with Australia in trouble at 101 for four but put the visitors in the box seat with a devastating 220-run partnership off 171 balls in 106 minutes.
They set a record for the highest partnership by an Australian pair against New Zealand and fell just three runs short of the world record for a fifth-wicket partnership.
They also helped Australia establish a new record for the highest one-day total at Wellington while Symonds broke Ponting's record for the highest individual score by an Australian against New Zealand.
Symonds, named man of the match, was dropped on 14 in the outfield by Cairns and made the Kiwis pay dearly with a brutal display of hitting.
He began cautiously, reaching his half-century off 70 balls, then his third ODI century from 109 deliveries, before suddenly unleashing himself on the New Zealand bowlers.
He raced from 100 to 150 off just 16 balls, blasting a total of 12 boundaries and eight sixes, including three in a row off Cairns, before Vettori bowled him in the final over.
Though overshadowed by Symonds, Clarke's innings was no less important, the Test discard slamming nine boundaries in his 77-ball stay.
New Zealand made a bold start in reply, belting 93 from 14 overs before the wheels began to fall off when Vincent was caught behind for an adventurous 71 off 49 balls.
Nathan Astle (22), Craig McMillan (9), Hamish Marshall (10) and Scott Styris (25) all departed, leaving the home team struggling at 156 for five, before they launched another unexpected fightback.
Cairns plundered four boundaries and three sixes in his 52-ball knock while Jacob Oram chipped in with a brisk 41 before McCullum took up the cause.
Australia still seemed to be in control with New Zealand needing 24 runs off the last two overs but Brett Lee then gave away 18 runs, his over including a head-high full toss that was hit for four then called a no-ball, a wide off a bouncer and another no-ball called for Australia not having enough fielders in the circle.
Scoreboard:
Australia Innings
A. Gilchrist c Cairns b Mills 8
S. Katich run out 36
R. Ponting c McCullum b Mills 28
B. Hodge  c H. Marshall b Cairns 0
A. Symonds b Vettori 156
M. Clarke not out 82
M. Hussey not out 1
Extras (lb-4 nb-4 w-3) 11
Total (for 5 wickets, 50 overs) 322
Fall of wickets: 1-10, 2-47, 3-50, 4-101, 5-321.
Did not bat: B. Lee, B. Hogg, N. Bracken, S. Clark
Bowling: K. Mills  10-0-60-2 (nb-2 w-1), J. Franklin 4-0-36-0 (nb-2 w-1), C. Cairns 9-0-66-1, J. Oram 5-0-39-0, S. Styris 10-0-46-0 (w-1), D. Vettori 10-0-51-1, N. Astle  2-0-20-0
New Zealand Innings
L. Vincent c Gilchrist b Lewis 71
N. Astle c Clark b Lewis 22
C. McMillan c Hussey b Clark 9
H. Marshall lbw b Hogg 10
S. Styris c&b Hogg 25
C. Cairns c Lee b Lewis 60
J. Oram c Clark b Lee 41
B. McCullum run out 49
J. Marshall run out 6
D. Vettori not out 8
K. Mills run out 0
Extras (lb-9 nb-2 w-8) 19
Total (all out, 49.5 overs) 320
Fall of wickets: 1-93, 2-98, 3-109, 4-134, 5-156, 6-237, 7-271, 8-295, 9-319, 10-320.
Bowling: B. Lee 10-0-85-1 (nb-3 w-2), N. Bracken 7-0-49-0, M. Lewis  9.5-0-56-3, S. Clark  10-0-50-1, B. Hogg 7-0-34-2 (w-1), A. Symonds 6-0-37-0 (w-1).
Result: Australia won by 2 runs