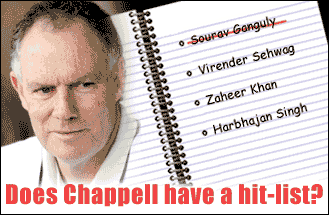 Former national selector Yashpal Sharma made startling revelations on Sunday, slamming anyone and everyone in the Indian camp.
"The coach, Greg Chappell, does not like Harbhajan Singh, Virender Sehwag, Zaheer Khan and Sourav Ganguly," he told a television channel, adding that after Sourav Ganguly, Zaheer and Sehwag were on the coach's hit-list.
His outburst came after he was replaced by Punjab's Bhupinder Singh Sr in the selection committee following Sharad Pawar's victory in the Board of Control for Cricket in India elections. Sharma, Pranab Roy and Gopal Sharma were the three selectors ousted.
Sharma also spewed venom on Chappell in an interview with Outlook magazine.
"The coach, Greg Chappell, was using what I believed was intemperate language against Pranab Roy and Sourav Ganguly. I stepped in to tell Chappell that it was uncalled for and that it would be best if we focused on the issues that were being discussed at the meeting without getting personal," he said.
Sharma said that politics needs to be done away with for the betterment of Indian cricket, adding that zonal selections are depriving deserving youngsters a chance of making it to the national team.
He also slammed chairman of selectors Kiran More for not supporting him and taking sides when convenient.
"I supported him throughout the tenure, but he switched sides when Pawar came in power. He should understand that what happened to us can happen to him also."
Sharma added that the BCCI needs to do away with the honorary selection committee and bring in people on contract so that it would bring stability to the job and also hold the selectors accountable.
When Sharma occupied the hot seat, he was tightlipped all the way, but now that he has got the boot, he is blaming everyone.
Do you think Sharma's allegations need to be taken seriously or is it a case of sour grapes?
Tell us.