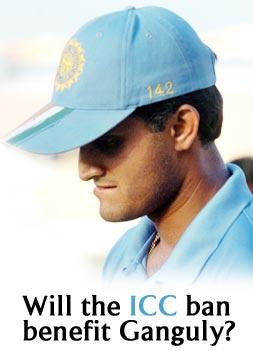 The International Cricket Council (ICC) banned Indian captain Sourav Ganguly for six one-day internationals for his team's repeated slow over rate in the series against Pakistan.
As captain, he was also fined 30 per cent of his match fee after the fourth match against Pakistan on Tuesday. The other India players were fined 15 per cent of their match fees.
The ban comes as a big blow for Ganguly, whose batting has looked terribly out of sorts for the last few months. He averaged 9.6 in the drawn three-Test series against Pakistan last month and has managed scores of nought, nine, four and 18 in the first four one-day games of the current series.
There have been repeated calls from ex-cricketers and some section of the public for his exclusion after his repeated failures in the series against Pakistan. And some feel that the ban could well signal the end of Ganguly's international career after his recent batting slump.
Rahul Dravid, who takes over as captain for the next two games, has been tipped as the potential successor.
Do you think the ban comes as a good break for the Indian captain who can now go back and work on his batting or do you think it could signal the end of his tenure as the skipper?
Will the ban benefit the Indian team as some of the deserving players,who have been cooling their heels in the dressing room, could now get a chance to prove their worth?