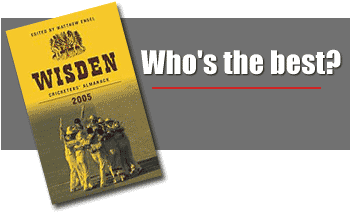 Wisden 2005 is a celebration of England's year, says Wisden editor Mathew Engel.
Reflecting a golden 12 months for their Test team, the five 2005 Wisden Cricketers of the Year are all Englishmen -- the first time in 45 years that England has monopolised the coveted list.
Ashley Giles (31 wickets in 7 Tests), Steve Harmison (38 wickets in 7 Tests), Robert Key (378 runs in 4 Tests including 221 in one innings at Lords), Andrew Strauss (590 runs in 7 Tests) and Marcus Trescothick (641 runs in 7 Tests) are the quintet selected for the 142nd edition of the cricketers' 'bible' which goes on sale on Thursday.
Wisden, they say, is the bible of cricket -- is there a case for rephrasing that a bit, and calling it the Bible of English Cricket?
It seems rather odd, does it not, that Wisden honors cricketers of the year not based on their performances overall, but on the "influence on the previous English season"?
Does it then mean that no player from a country that has not played England in the calendar year in question -- India, say, or Pakistan, or Australia, in 2004 -- merits consideration as one of the five standout names of the year?
Heck, it's Wisden's call, and that is how the book calls it. How about you?
If you were to pick the five most influential cricketers of the year, the five standout performers of 2004, the five who left the deepest imprint on the game during that time span, who would they be?
Why?
Write to us -- maybe it is time for a fans' rating of the best of the best.