Indian skipper Sourav Ganguly is learnt to have given veteran West Indian umpire Steve Bucknor a very poor rating for his performance in the Sydney Test, which ended in a draw earlier this week.
In the captain's report to the International Cricket Committee, mandatory after every Test match, Ganguly has sharply criticised Bucknor for his on-field conduct and his decision-making ability, highly placed sources said today.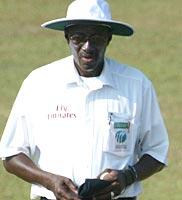 In the column of the report where an umpire is to be judged on his conduct and decision-making -- the ratings are very good, good, average, poor, and very poor -- Ganguly has given Bucknor 'very poor'.
The Indians were peeved with the 57 year-old Jamaican for turning down leg-before appeals against Justin Langer and Damien Martyn on the final day. Almost everyone watching thought both batsmen were plumb in front.
Langer survived two confident shouts from Ajit Agarkar while Martyn benefited from Bucknor's largesse after left-arm spinner Murali Kartik had hit him in front of the stumps.
The Indians have also not taken kindly to an angry Bucknor upbraiding teenage wicketkeeper Parthiv Patel with a raised finger, rather like a headmaster scolding an errant schoolboy, in front of thousands of spectators at the Sydney Cricket Ground and millions watching on television.
"Patel was not wrong in [jumping] up and down as his view was obstructed by the batsman's back," a senior Indian team member said, and characterised the umpire's reaction as downright rude.
The Indians believe that not only at the SCG but also in the first Test at Brisbane, Bucknor's umpiring has been anything but satisfactory. Bucknor had ruled Sachin Tendulkar out leg before wicket when he had shouldered arms to a rising delivery outside the off stump from Jason Gillespie in India's first innings, a decision that was slammed around the cricketing world.
"He was not like this before, but now he seems to be riding a thing against us," remarked the senior cricketer.
It is not known what Bucknor had to say in his report about the Indians to match referee Mike Procter, but this squabble between the two parties is unlikely to die down soon. Bucknor is slated to stand in five of India's eight matches in the league stages of the VB Series and two of the three finals next month.
Bucknor is the world's most experienced umpire, having officiated in 86 Tests. It appears that he might have been peeved by the constant chatter between the two teams during the tense Sydney Test.
The Indians found Matthew Hayden and Adam Gilchrist a "handful" in their verbal attacks and were not averse to chip in with their own banter. Gilchrist, though, came over to the Indian dressing room after the fourth Test had ended in a draw and spoke in a spirit of 'let bygones be bygones', according to another senior cricketer.
It is a tradition in Australia for the rival captain and his players to visit the home side's dressing room at the end of a Test series. Indian vice-captain Rahul Dravid, opener Akash Chopra, and left-arm spinner Murali Kartik visited the Australians after the match had ended. Sourav Ganguly and Sachin Tendulkar did not, however, make the courtesy call.
But an Australian cricketer did not think much of it. "The dressing room, inside and outside, was extremely chaotic at the end of the Test with all those emotions surrounding Steve Waugh," he said. "I would not read too much into it."