It may sound churlish to say this after a thrilling, hard-fought, emotional series in which India not only stood up to the world champions, but gave them the scare of their lives and threatened to give the legendary Stephen Rodger Waugh a sendoff he had probably never dreamt of, but this is as good a time as any to get it off my chest and on to your nerves.
India had a golden opportunity to win not just a series overseas (something they have not done in almost 18 years now), but one in Australia, something no side has achieved in more than a decade, and lay real claim to being Australia's successors as a champion side.
But some bull-headed, unimaginative leadership eventually lost us the chance and, once again, India ended a series with the nagging thought of what might have been.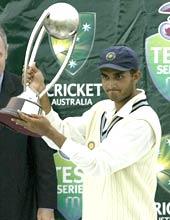 Make no mistake, it wasn't only the lack of initiative on the captain's part that left us with this 'so near and yet so far' feeling. India were playing with big disadvantages. For one, India's best bowler of the last few years, J Srinath, played no part in the series, having announced his retirement. His successor, Zaheer Khan, played only an intermittent part before fading out with injury.
The man touted as India's best spinner, Harbhajan Singh, played an ineffective role in one Test before he was condemned to spend the rest of the series signing autographs and watching from the sidelines, again thanks to injury. Ajit Agarkar, for all his touted talent and potential, once again offered just glimpses of what he could have done.
Thus, on the deciding day of the series, Sourav Ganguly found himself left with just one tried and tested weapon -- the much maligned Anil Kumble, who put in probably the performance of his career to end up as the highest wicket-taker of the series on both sides despite missing the first Test -- and one hard-working, never-say-die rookie in Irfan Pathan.
To make matters worse, Parthiv Patel's wicket-keeping was found wanting at crucial junctures, though it is rather ironic that those who complain about it now are mostly those very folks who were earlier shouting themselves hoarse that India needs a 'keeper who can bat as well as Mark Boucher, if not Adam Gilchrist, never mind if he misses the odd one.
India also missed the luck that even champion sides sometimes need to get the better of their opponent. Several close and plumb lbw decisions went against them, especially with veteran umpire Steve Bucknor seemingly more intent on stamping his authority on the game and demanding respect than getting his decisions right. (Bucknor, David Shepherd and S Venkataraghavan are clear reminders to the International Cricket Committee that it needs to seriously think of an age of superannuation for umpires, but that is a separate issue.)
Granting all this, the fact remains that Sourav Ganguly failed to make the best use of the resources available to him. Sachin Tendulkar was brought on almost as an afterthought, when all real hope of winning the match was gone, though it was the same Tendulkar who had played a crucial role with the ball in the stunning turnaround in Calcutta three years ago, and the pitch was clearly receptive to spin.
Even in the Australian first innings, he steadfastly refused to turn to Tendulkar even though Simon Katich and Jason Gillespie put on a century partnership for the eighth wicket, a partnership that eventually proved to be a match-saver.
Nor did he think of his other surprise weapon, Virender Sehwag, who, as the only off-spinner on either side, could have added another dimension to the match, especially with Katich using his feet to Kumble, Murali Kartik and Tendulkar, who were all essentially turning the ball in to him.
Coupled with this strange reluctance to turn to his irregulars was Ganguly's seeming reliance on Australia's much-touted attacking instincts to help him pick wickets at regular intervals and get into a winning position. For most of the final day, India seemed to be merely waiting for the Australians to go for the rather improbable target of 442 runs and make mistakes in the bargain, rather than trying to attack them and work them out.
When India won the Adelaide Test last month, Ajit Agarkar made the telling point that he merely put the ball in the right areas and the Australian batsmen, in their quest for quick runs to set India a challenging target, completed his task for him. Even three years ago in Calcutta, one factor that did not get the attention it deserved was that the Australians, in their bid for glory in the second Test itself, played into India's hands. If they had played for a draw, they would probably have made it to Madras with a 1-0 lead in the three-Test series, and who knows what would have happened then. V V S Laxman's stunning innings would have been in vain.
Sure, all that is in the past. But the past is what you learn from. The Aussies may not have learnt enough from Calcutta, but they certainly did so from Adelaide. Thus, while India was hoping for the Australians to repeat their mistakes, the home side played it a little safer. As they realised that India was merely choking the runs, bowling a negative line wide outside the leg-stump at times, they decided that discretion was the better part of valour and a drawn series would be much better than a lost one.
Ganguly's game plan would have worked if India had managed to draw the Melbourne Test. Then Waugh and his men would have been eager to win the final game and square the series. After all, it does not make a real difference whether you lose 1-0 or 2-0; a defeat is a defeat.
Kumble bowled his heart, lungs and other vital organs out. But you cannot realistically expect to win a Test against the world champions on the strength of just one bowler, no matter how great.
India probably took too seriously all the rhetoric about a drawn series being a moral victory and imagined that the Aussies would not want to let us have even that. But the sad truth is that moral victories count for little in sports. In the long run, none except statisticians and historians will remember how closely fought this series was and how close India were to a famous win. While the historians go ga-ga over the second tied Test at Madras, most fans who saw the game probably still curse Ravi Shastri for not having taken his chance and waited for the last two balls of the match to score the two runs required for a win.
Making history may be great, but winning is even better.
If Ganguly's rather sour expression after the match was any indication, the Indian captain probably agrees with that one. If so, Pakistan had better watch out.