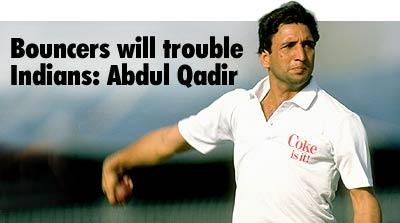 Former Test leg-spinner Abdul Qadir has warned the Indians to be wary of Pakistan's pace in their hectic tour starting next month.
"Shoaib Akhtar's right arm will decide the series between India and Pakistan," Qadir told rediff.com in a telephone interview from Lahore.
"With Mohammad Sami for support, the two boys will worry the Indian batsmen a great deal," he predicted.
"Fast bowling has always been a problem for Indians. Bouncers especially will worry the Indian batsmen a great deal."
Qadir, who revived the art of leg-spin bowling before Shane Warne arrived on the scene, believes the Indian team has nothing to fear from the Pakistani spinners, even though off-spinner Saqlain Mushtaq picked five wickets in each innings of a two-Test series in India in 1998-1999. 
"I am not too sure if Saqlain will be effective on the wickets here," Qadir explained, "because I don't know if he will be playing on turning tracks. I suspect the wickets will be fast and bouncy. Indians are not goats like other countries to struggle against spin bowling."
He also warned the Indians against weaving their strategy around spinners in Pakistan. "I am hoping that Zaheer Khan is fit because along with Irfan Pathan, who is a player for the future, the Indian fast bowling will play a huge role in their performance," he said.
Qadir has immense respect for the Indian batsmen who he believes are amongst the best in the world. "Rahul Dravid is one of the best cricketers India has ever produced," he said. "The innings he played in Adelaide was just incredible. Dravid is the second Steve Waugh.
"(V V S) Laxman is an artist. I have been his fan ever since the 167 he made against Australia (at Sydney in 1999-2000). I thought someone had gone mad when they dropped him from the World Cup team last year. You don't get batsmen like him every day."
About Sachin Tendulkar, Qadir remarked, "What can I say? Is there anyone greater than him in cricket?"
But Qadir expects two other players to make their mark on this tour of Pakistan.
"Yuvraj Singh is a gutsy, brave, and hugely talented player," he said. "If only he uses his mind instead of his bat, he will be a tremendous player.
"One other boy no one talks about is (Akash) Chopra. Beautiful technique! He needs just one Test hundred and he will take off."
Qadir, who has more than 1,000 first-class and Test wickets, is critical of his country's cricket culture.
"When my sons wanted to play cricket," he said, "I warned them against it. I played for 18 years and struggled off the field with the administrators. Non-cricketers who run the sport are more involved in taking revenge on the cricketers and their children than on improving the state of the game."
Pakistan has always had an assembly line of fast bowlers. From Fazal Mahmood through Sarfraz Nawaz, Imran Khan, Wasim Akram and Waqar Younis down to Akhtar and Sami. But the same cannot be said about spinners. 
"Pakistan never used me in this department," Qadir explained. "I always wanted to make sure that I pass on my art to others. Why do you think I travel to Australia and other countries? Not for money, but because I want to see the art of leg-spin live!"
Despite his warnings, two of Qadir's three sons are playing competitive cricket. Imran, who is allergic to leather, plays as a specialist batsman in the Birmingham league in England while Suleman is vice-captain of the Pakistan team currently playing the under-19 World Cup in Bangladesh. 
"But watch out for Usman, my nine year old," says the proud father. "He is a master of leg spin and Inshallah! he will do something for Pakistan Test cricket."
Thrilled with India's forthcoming tour, Qadir said it is easily the greatest series in world cricket and a lot of doubts will be wiped away when people of the two countries travel and meet each other.
"Indians and Pakistanis share a beautiful relationship," he said. "We are brothers who have changed homes, but that does not mean the love will go away. I am keeping my fingers crossed that the two nations play each other more often instead of once every 15 years.
"My greatest cricket memory playing with India has been the dismissal of Sunil Gavaskar in Madras for 89. Even today when he meets me he tells me he missed out on another three Test hundreds because of me. Hopefully, I will meet him and joke about it again."
Design: Dominic Xavier
Image: Adrian Murrell/Getty Images