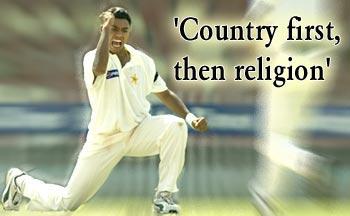 "The house with the toran [streamer] is mine," said the voice at the other end of the telephone, issuing directions.
It is not often that you find torans adorning doors in Pakistan, I thought as I drove through Frere Town in the posh Clifton area of Karachi. But, then, it is not often that a non-Muslim plays for Pakistan.
The yellow Suzuki cab turned into Chaudhary Khaliquzzaman Road, and enquiries about its most celebrated son drew blank faces.
Danish Kaneria is special talent with a unique identity. A young leg-spinner of immense promise, he is a Hindu who is proud to be a Pakistani. His Test debut in 2000 against England, in what was Pakistani legend Wasim Akram's hundredth Test, was followed by constant exclusions from the team and comebacks to it.
He is a Khatri Rajput and only the second Hindu to represent Pakistan in Test cricket. His maternal uncle, Anil Dalpat, was the first.
After several requests for directions, I arrived at Rimpa Sunbeam Apartments as a 6' 1" silhouette waved out from the balcony.
It's a typical Gujarati setting as I step into Kaneria's living room: bright blue sofas with matching curtains, a huge television set and a photograph of him and Aussie leg spinner Shane Warne.
Kaneria got married on February 15, the same day as VVS Laxman. The video recording of his wedding is playing with Hindi film songs in the background. It appeared like any other Indian wedding video. Zari-clad women, loud décor and the traditional festivity were all there. In a way, it felt like home.
A plate of chocolate pastries and cola were on the table the moment I settled down on the sofa. The obvious question finds its way out of me.
"How is it for a Hindu in Pakistan?" I asked.
My question is turned around, and Kaneria asks me how I feel as a Muslim in India.
'Normal,' I reply.
"I don't ever think about my identity. I am a Pakistani and my religion cannot change that. My religion teaches me to first respect my motherland and then my religion," affirms Kaneria.
"When I took my first Test wicket, main sajde mein gaya Pakistanma ke [When I took my first Test wicket, I bowed in front of my motherland]," he adds.
For Kaneria, country comes before religion; before faith. But India does hold a special place in his heart.
"Like Muslims look at Mecca, I look towards India as my sacred land. I hope I can visit that place someday.
"We might be in Pakistan but that does not stop us from celebrating our marriages, our festivals. During Diwali, it's a blast. We burst crackers well past midnight; Holi is one of the most widely celebrated festivals in Karachi," he says.   
His mother, Babita, hopes to visit the Sai Baba temple in Shirdi, Maharashtra, and is planning to travel with her son when he visits India next year.
Kaneria was introduced to cricket by his Parsee uncle, Kawas Mulla, when he was eight years old. Then a chubby, short kid, he grew up watching legendary Pakistan spinner Abdul Qadir, but decided against replicating his action.
"I had a natural action and I was very comfortable with it. You can learn from someone else but you should not copy the style," he says, adding he was supported by the local media in Karachi which campaigned for him and saw his name being discussed for selection to the national squad.
Three weeks later, back in the Pakistan Test squad, in place of Saqlain Mushtaq, he realizes the onus is on him to perform and grab the latest chance that's come his way.
And he is optimistic.
"If you look closely, Shane Warne did not pick too many wickets till his first 15 Tests. Also, Muralitharan took a long time to get five-wicket hauls. Perform karenge, aur who bhi consistently [I'll perform, and that too consistently]," he says.
As soon as the Rawalpindi Test ends, Kaneria will be on his way to England to play for Essex for six months.   
"With confidence and time I will mature into a better bowler than I am," he promises despite a tough opening day in the Lahore Test on a wicket tailor-made for pace bowlers.
A good showing against the Indian batsmen, the best players of spin bowling, could prove to be meteoric for Kaneria's career.
Photograph: Getty Images/Hamish Blair
Design: Imran Shaikh