The second Test belonged to the New Zealand bowlers. After their batsmen occupied the crease for almost half the match, the bowlers built up on the advantage, putting pressure on the Indian batsmen with accurate bowling, led by Daryl Tuffey and Daniel Vettori.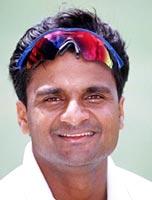 Tuffey has been a revelation in the two Test matches. Though not known for genuine pace like Shane Bond, he demonstrated how a good line and length -- corridor bowling -- can play a major role even on placid, docile wickets. He stuck to the basics by not trying for pace, but relying on a nagging line around the off stump and banking on subtle movement off the pitch. Accuracy was the key to his success.
As for Vettori, well, he is currently the best left-arm spinner in the world. He relishes bowling on Indian surfaces though his figures do not quite reflect his control. And if you thought Vettori was the bowler of the series, don't forget he saved the match for New Zealand with the bat in Motera!
If India could have enforced the follow-on in Ahmedabad, that Test could have been won.
Talking of the follow-on, I can see Stephen Fleming's logic in carrying on his first innings on the third morning. In Ahmedabad, Ganguly was justified in declaring at 500 for 5 because he was the home captain and had the bowlers who knew the conditions like the back of their hands.
| | |
| --- | --- |
| | Also Read |
| | |
In Mohali, Fleming had his own reasons, because a touring captain would like to make completely sure that he is in a position to enforce the follow-on. Against batsmen at home in familiar conditions, a touring team needs an extra cushion of runs. It nearly worked for Fleming and the game was alive till the final session.

I have no doubt though that if India had won the toss in Mohali, they would have ended winners. The wicket was perfect for batting on the first two days. I know there has been loads of criticism of the Indians for batting too slowly on the fourth day, but look at it this way: India had lost both Virender Sehwag and Rahul Dravid within a few overs on the fourth morning. The hosts could not have afforded another setback at that stage. That explains why the Indians were so cautious.

The New Zealand batsmen adapted to the conditions very quickly with the help of some really batsmen-friendly pitches. Our ground curators contributed a great deal to their success.

Lou Vincent and Mark Richardson made best use of the wicket and gave a solid base for the ever-improving Scott Styris to come and pitch in with his contribution. Craig McMillan, one of the few who has played Shane Warne with consummate ease, then exhibited his prowess and was aggressive with the Indian bowlers.

I thought Zaheer Khan and Lakshmipathy Balaji tried too hard for the initial breakthrough and drifted from the basics. They sprayed the ball around a lot, which helped the New Zealanders to capitalise. There was so little purchase for the spinners on the first two days that Anil Kumble and Harbhajan Singh had to toil really hard. I am sure the Indian spinners won't have great memories of this Test match.

The Indian batting slipped into extra gear almost immediately, but the pressure of the mammoth total did tell upon them in the end. Sehwag played a gem of a knock and his partner, the young Akash Chopra, again proved he is here to stay. Sachin Tendulkar didn't leave any impact on this series and would sure like to make amends in the triangular.

V V S Laxman was regal during his first innings hundred and when he is in such form memories of his Kolkata knock against the Australians are refreshed. He stood firm to save the match for India in both innings.

The amount of runs scored in the last two Test matches suggests that the attempt made a couple of years ago by the apex body of Indian cricket to upgrade the wickets by relaying them has proved futile. Good sporting wickets are so important to retain interest in Test cricket. Slow and docile wickets, like Motera and Mohali, can reduce further the already dwindling crowds for Test matches.

The need of the hour is to replace ignorant curators with knowledgeable ones. Otherwise, it could prove catastrophic for Test cricket. Having tried to make them understand the need for good sporting wickets on so many occasions, having told them what changes need to be done on Indian wickets and how the wickets are prepared abroad, it seems all such advice has fallen on deaf ears.

The fact is, the curators concerned are highly incompetent when it comes to understanding soil mechanics. Some of the maalis  (groundsmen) have better practical knowledge than these so-called curators. The bowlers are the sufferers and Indian cricket is the casualty.

Srinath's previous columns:
- It was Dravid's Test all the way
- Motera wicket will be sporting
- Spare a thought for the pacemen