The Indian spinners bowled as well as they could have on the final day of the Test. I am sure quite a few Indian fans must be disappointed that India could not go on to win the Test after getting the first six wickets quickly. But there was absolutely nothing in the wicket.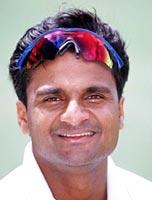 As for Zaheer Khan, he is truly now India's strike bowler. His first spell was devastating. He has embraced the responsibility with open arms. I am keen to see more of him in future. As the match progressed, it was evident he was trying for reverse swing.
You can't find fault with Lakshmipathy Balaji either. It was heartening to see a young bowler toil so hard on that surface. His line and length got better with every spell. It is only real to say that he is coming to terms with international cricket. It's hard, but he has the right attitude to succeed.
Indeed, this is the right time to congratulate Anil Kumble on his 350th wicket in Tests. It is a tremendous milestone. He bowled as well as he has ever done. He did everything expected of him.
You can't fault the Indians on the timing of declaration either. Sourav Ganguly declared the innings at the right time -- you can't give your opponents less than 350 in the fourth innings on Indian wickets. If you do so, you are taking a huge risk.
But if there is one thing I thought could have been better, it was Zaheer's bowling in New Zealand's second innings. I thought he didn't bowl as many overs as he should have on the last day.
India's batting, however, is running as well as it has ever done at home. Rahul Dravid showed the way and V V S Laxman and Sourav Ganguly were too keen to build on it.
Batting must now be the biggest worry for New Zealand. They also know that it is the tail that bailed them out in this Test. In a way, they were lucky to face the Indian spinners on such a bland pitch.
New Zealand must regroup quickly for the second Test, which starts after two days.
| | |
| --- | --- |
| | Also Read |
| | |




Kiwis in India 2003 - Complete coverage

Images from Day 5 of the first Test
In the final analysis, it was Rahul's Test all the way. Nothing much has changed in his style of batting from the last decade. It is only true to say that he is a born technician. It was true when he made a chanceless 82 on his debut against Pune in the Ranji Trophy in 1991. It is true today when he has taken a double hundred and a near-hundred off the New Zealand attack in the first Test.
Rahul's basic principle is occupation of the crease. He is also a firm believer in the adage of the bowlers earning wickets rather than batsmen gifting them away.
Having raised the bar of progress consistently, he is the most sought after cricketer even in the English county circuit, with offers from several counties to lead the side as well.
Though in Tests Rahul still sticks to his tested methods, his batting in one-dayers has changed with time and
circumstances. As a team, the responsibilities are divided on each batsman. Likewise, Rahul's role is well defined. He, like everybody else, knows what to do at any stage of the game:
If an early wicket were to fall, Rahul is up the order to steady the ship.
Rotate the strike so well so as to give maximum strike to the attacking batsmen.
If he is at number six, it is imperative to play the last precious overs and not expose much of the tail.
In essence, Rahul's task is to marshal the batting resources in such a way that the best interests of the team are served. He has also mastered the cut shot on balls bowled at the off stump, which otherwise is a dot ball.
If I have to caution him on one thing, it is his wicket-keeping. In my opinion, he should not do it and on a long tour he could be prone to injuries.
Coming from one of the best schools in Bangalore, Rahul's education has really complemented his cricket and made him a role model. He is well read, has excellent communication skills, and has played a bigger role in the side than any other deputy would have.
It was mind over matter for him at Motera. Though the wicket was easy-paced, it was a Herculean effort to stay there for close to 10 hours. Truly, 'The Wall' is standing tall for the country.
I have known Rahul for as long as I can remember. We have spent a lot of time together. He loves chocolates and shakes and is an avid reader of books, mostly autobiographies and sports-related subjects. He is also very well informed on current affairs. In music, he has a good taste for English pop.
His fitness routine is exemplary. He is the most hard-working guy in the side. His day starts at 6am with a metabolic run followed by intense meditation for almost 30 minutes; a bit of shadow practice on match days. A lot of his time is spent in the gym as well. He has always been high on the weekly fitness points system with maximum number of sessions in gym and aerobic work.
Extremely careful with the calories, Rahul is always high on sports nutrition food packets. Unlike a few of us, he didn't have a problem with his food habits, for he has been a non-vegetarian for as long as I know.
He doesn't have any superstitions, but then if he had he wouldn't tell me!
I have also not seen him lose his temper. He has that uncanny skill of keeping his frustrations to himself. He hates to get out though and you can see the restlessness in him till he gets his act together in the next outing.
On tours, he is not big on shopping. He doesn't seek out big brand names. His values are high but simple. He loves to go to movies on tour and [Venkatesh] Prasad was his perfect partner when it came to watching flicks. They have gone to the extent of watching two movies on the same day!
I am so happy for his well-deserved success. I reached for the phone no sooner than he achieved the double hundred on the first day.
Rahul has also played his part in picking smart catches off me at forward short leg. I remember two such efforts in particular. One was a blinder to dismiss Craig McMillan in the Wellington Test of the 1998-99 series; the other was when he caught Moin Khan in Australia in the triangular series of 2000-2001. Both were outstanding picks and well-planned.
Somehow, he is reluctant to take that position any more.