The Indians will not be too pleased by what happened to them in the triangular cricket series so far. The team is coming from a long lay-off and then there were a few unfortunate injuries which slowed down their progress.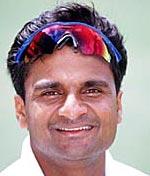 We saw a few exceptional performances from Sachin Tendulkar and V V S Laxman and the bowlers pitched in a few good spells, but the big guns like Virender Sehwag and Yuvraj Singh are yet to deliver as they can. Sourav Ganguly's absence due to injury and subsequent surgery was a crushing blow.
It is the opening batsmen who are the torch-bearers in any form of cricket. An explosive start by them decides the fate of most of the games. Cricket being a batsman's game, successful openers obviously are the much sought after cricketers. However, they are put under the microscope as soon as they hit a lean patch.
Virender Sehwag made a big impression at the beginning of his career but now finds himself in such a situation. Sehwag, who at times is a look-alike of Tendulkar himself on telly, has set high standards for himself. His demolition act on several occasions only leaves the garrulous Indian cricket followers to expect nothing less than a repeat of another explosive innings.
But Sehwag has not hit form in this tournament so far. He has been dismissed in the first over itself and neither luck nor a fair decision has come his way. The wise critics will not undermine his ability. It is only a question of time before he recovers his poise and gives India the start it wants.
The talk of this tournament has been the ground conditions because of match-timings. In a day game, because of the early morning start, the team bowling first can make use of the advantage of the heavy dew factor, aiding their bowlers with exaggerated movement.
By noon, the team batting second enjoys playing on a flattened surface. Thus the right call with the toss is half the job done. Likewise, in a day-night game, the team bowling second is at a disadvantage. The late evening dew at times makes it difficult to bowl as the ball gets wet on the soggy outfield. Spinners are the real victims because it is virtually impossible to grip the ball.
So we have seen fans miss out on a good contest because of the unfair weather conditions. Toss becomes a critical factor, which, as we all know, is a matter of luck. It perhaps will not be too bad an option if in a day game a little late start is made to negate the effect of early dew.
I know it is not easy to fit in 100 overs in few parts of our country if a late start is made but authorities could look at reduction in lunch break or ask teams bowling second to stick to three-and-half hour schedule to make it possible.
Similarly, a little early start for the day-night game might also reduce the effect of excessive late evening dew and poor light as well. It is time the concerned authorities take initiative to restore fair play.
There is little to say about the Australians but to accept they are the trendsetters of modern cricket. They rested their best players and yet came up winners against New Zealand in Guwahati. It is now left to the other two teams in the fray to fight it out for a place in the final at Eden Gardens, Kolkata.
This is a side which was depleted by the absence of its top pace guns and a recognised batsman in Darren Lehmann. But it does not seem to have hurt them. If at all, the fine show in India will only spur them to even greater heights in the forthcoming series because there is now more than one genuine contender for a lot of spots.
It does say something about their strong cricketing culture. Competitive domestic cricket is the breeding ground for their quality cricketers. Cricket academies, sports medicine institutes, belief in sports psychology and great sporting wickets are the pillars on which the Australian cricket culture is built upon.
They have not only set a precedent for the rest of the world to follow but have also marketed their cricket expertise to the other cricketing nations.
More Srinath columns:
Martyn took the game away from India
Zaheer, Kumble were superb
Our curators are incompetent
It was Dravid's Test all the way
Motera wicket may not assist either side
Spare a thought for the pacemen